The following short biographies by Rick Cook, first appeared in the "Union Volunteer",
 Baker Camp # 6 Sons of Union Veterans, Oregon
Deep In the Wilderness
A Hero at Chancellorsville
   The Wilderness of Spotsylvania, Virginia, was a dark gloomy forest of tangled scrub oak, pines, and thorny briers, with some areas nearly impossible to penetrate. An old turnpike and plank road cut through the dense maze, converging in a clearing near an old church. It was here, drummer Pvt. Charles T. Blumenrother and his regiment bivouacked May Day, 1863, three miles west of Chancellorsville.
   Prussian born, Charles Blumenrother, eager to join the fight against the Secessionists, ran away from home at the age of fourteen, enlisting in the New York German Brigades. He and his regiment, the 68th New York Infantry, also known as the New York 2nd German Rifles, gained experience at the first battle of Bull Run, Cross Keys and second battle of Bull Run. All three were humiliating Union losses. Prior to the Chancellorsville campaign, the 68th New York was placed in Major General Carl Schurz' Division. Having served as Ambassador to Spain, the German born Schurz was commissioned brigadier general by Abraham Lincoln, rising to the rank of major general.
   As the sun slipped behind the trees, the evening of May 1, Pvt. Blumenrother and the 68th, anxiously waited for Confederate General, Robert E. Lee to make a move. Earlier that day, Union commander, "Fighting" Joe Hooker had advanced his forces against Lee's position. For some inexplicable reason, Hooker, apparently unaware his forces out numbered the Confederates, 73,000 to 37,000, decided to pull back and go on the defensive, ceding the initiative to Lee. General Hooker aligned his command in a somewhat V-shaped configuration with its base pointing south. Major General Oliver O. Howard's Eleventh Corps, which included Schurz' Division, was placed on the western end of the V, protecting Hooker's far right flank.
   General Howard was a stern disciplinarian and uncompromising Christian, too often preaching and quoting scriptures to the troops. His German brigades, having fled a Germany that was consumed by religious subjugation and turmoil, were offended by Howard's insensitive piousness. General Schurz did his best to mitigate the relationship between his kinsmen and the corps commander. In spite of low morale, largely created by General Howard's disposition, the Germans executed their duties with exemplary precision.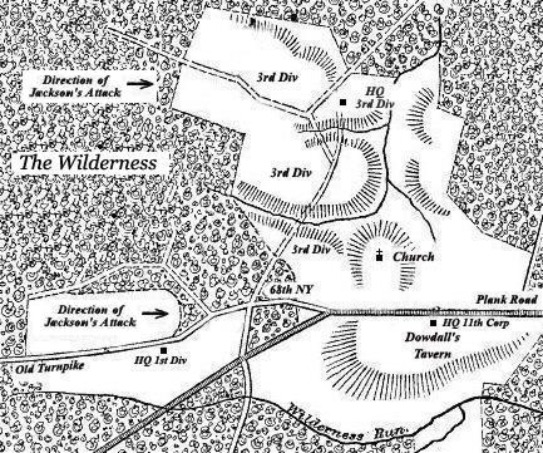 The Wilderness at the Time of Jackson's Attack, May 2, 1863
   On the morning of May 2, General Hooker inspected Howard's position, leaving Howard content with the flawed impression his command would not likely see much action, should Lee attack. Hooker was certain Lee would come from the south and the overgrown thicket west of Howard would prevent enemy aggression from that direction. Howard agreed.
   Long before dawn, Lee made a courageous but risky decision to send Major General Thomas "Stonewall" Jackson with 26,000 troops on a flanking maneuver against Hooker. In the early morning hours, General Jackson began his march toward Hooker's right flank, opposite Howard, west of the thicket. All day, Union outposts and scouts reported enemy troop movements. General Schurz, on at least two occasions, personally reported to Howard, requesting permission to change defensive positions to meet an attack from the west. Howard believed Schurz and his reports were in error and ignored the warnings. Eventually Hooker became alarmed and ordered Howard to prepare for an assault from the west. Howard, stubbornly certain of himself, made only minor adjustments to his line.
   Late in the afternoon, with only an hour and a half of daylight left, Stonewall Jackson acted. Less than a half mile to the right of Blumenrother and his regiment, men were taking it easy, guns stacked and at rest. Suddenly conversations were cut short in mid-sentence as wild frightened four legged creatures dashed out of the woods. Moments later, a tidal wave of shining bayonets and howling gray clad Rebels emerged, engulfing the unsuspecting.
   General Jackson, once stated, "it is the sweetest music I have ever heard." And to him, music it was, when echos of the primitive demonic screech reverberated back through the thicket to his ears. Unnerved by the sight and sound of Jackson's fiery horde, panicked Union men turned and fled the melee. As the Confederates pressed east, one Union Regiment after another folded and joined in the chaotic mass exodus. Commanding officers attempted, in vain, to restore order. A reporter for a New York newspaper was on site. He sent home a scathing article characterizing the retreating Yankees as the "Flying Dutchmen".
   The men of the 68th had just begun to prepare their evening meal when the racket to the west interrupted them. With full comprehension of the situation, Pvt. Blumenrother instinctually grabbed his drum and began drumming the call to arms. In German, an officer barked orders to move from their encampment and form a defensive line, just below the plank road, a short distance east of the turnpike intersection. Blumenrother, without hesitation, ran to the spot the officer had designated and hammered out the rally call drum roll. The regiment formed up with the 119th New York Infantry to their right. Holding a well-dressed line was almost impossible as screaming fugitives ran through, disrupting the formation. Fragments of regiments and companies from other brigades joined the make do defense force. Tenaciously, they held the enemy at bay for several minutes. When it finally became impossible to hold position, the order to fall back and regroup was given. In excellent military discipline, Blumenrother, his regiment and the others quick marched a quarter mile east. The rally point was at the Eleventh Corps headquarters, near a tavern, owned by a man name Dowdall. Previously dug rifle pits and defenses made this a slightly better position. The 68th NY, the 119th NY and 74th Pennsylvania Infantries, along with other regiments and one artillery battery of Schurz' Division, braced themselves for the Confederate storm that would soon be in their face.
   More than four thousand Union soldiers stood fast, facing an overwhelming Confederate onslaught that was closing in on three sides. Lead flew, artillery roared and malodorous smoke clogged the air as men fell to the earth. The screams of the wounded and dying harmonized with the hellish Reb yell, creating an eerie macabre melody, backed by a militant staccato drum beat, that would haunt a man for the rest of his life.
   Incredibly the rebel advance stalled and fell back for a moment. General Schurz, having arrived on the scene, seized the opportunity and lead his men forward, pushing against the Confederate front. The Rebels pushed back till Schurz and his troops were driven back to their starting place. Twice more, Schurz unsuccessfully pressed his determined enemy. By now, nearly an hour had passed and the evening sun had set. With only minutes to spare, General Schurz ordered a full retreat. In near complete darkness, Union Soldiers fled east, some down the plank road, some through the woods.
   Not sure exactly where he was going, Charles Blumenrother with more than a hundred others, veered southeast. They stumbled and clawed their way through the forest, tearing their uniforms on briar thorns and jagged tree branches. Eventually, they crashed out of the woods and directly into General David Bell Bierny's 1st Division of Major General Daniel E. Sickles 3rd Corps. A Division commander called a halt to their retreat. After allowing the men to catch their breath, he placed them in the line with one of Bierny's Brigades. It was well past 9:00 P.M. by this time.
   Blumenrother and his comrades were relieved they had escaped the slaughter house in, more or less, one piece. It must have been a blow to their psyche when they learned their new found brigade, under the command of Col. Thomas W. Egan of the 40th Infantry, as part of a larger force, was ordered back down the plank road to Dowdall's Tavern. They were to retake the rifle pits and recapture artillery left behind earlier that day.
   It was after 11:00 P.M. when Egan's command formed columns on the plank road. The night was clear and crisp. The moon, almost to its fullest, had risen from behind the trees. In the shadows of the blackened wilderness, random muzzle flashes lit, for a split second, abstract patterns of brush and branches. Private Charles Theodore Blumenrother, was not going back into the fire of battle with a pair of drumsticks in his hand. He discarded his drum and gathered up an abandoned Springfield rifle and ammunition.
   The unit moved cautiously toward Dowdall's Tavern. The bright moon lit the roadway and the defenses the Confederates were occupying at the tavern. As they closed in on their target, the pace picked up till finally they were at full run. From the Rebels view point, the moon illuminated dark human silhouettes with glistening bayonets but this time it was the Yankees who were howling. The Union forces stormed the Confederate position, driving out the defenders.
  Under terrific musket fire, Col. Egan continued down a path perpendicular to the plank road. The captured Union Artillery was aimed directly at Egan's men. Abruptly the cannons let loose, jolting up and back, belching chunks of led and shrapnel. The Yankees lost little momentum. Overwhelmed, the Confederates abandoned the guns and fled for their lives. Egan ordered the artillery limbered up. Quickly, the Brigade, with their captured bounty, pulled back to safety, leaving only those behind whom they thought were dead.
   Deep in the Wilderness, Charles Blumenrother lay motionless. His musicians sack coat and sky blue trousers, were torn and blood soaked. The coat's cold brass buttons silently reflected the still light of the moon. Blumenrother, left for dead, had been shot in the wrist, hit in the head with shrapnel and suffered a bayonet wound through the right side. It was about 10:00 A.M. the morning of May 3, when Blumenrother regained consciousness in the hands of the enemy. A burial detail was about to lay him to rest when they realized he was still alive.
   With little attention paid to his wounds, Pvt. Blumenrother was taken to Guinness Station, Virginia. In a nearby farm house, General Stonewall Jackson, lay mortally wounded. On May 2, a little after 9:00 p.m., General Jackson with some of his staff, had ridden to the front at Chancellorsville to assess the situation. On their return, at a point not far from Dowdall's Tavern, Jackson's own pickets fired on the party, wounding the General and killing or wounding several in his group. Stonewall Jackson died a few days later.
   Blumenrother and scores of other prisoners, were held at Guinness Station for three days before being marched to Libby Prison at Richmond. After a short stay at Libby, Pvt. Blumenrother was transferred next door to the Pemberton Tobacco Warehouse where he received marginal treatment of his wounds. After six weeks of captivity, he and the others were exchanged. They were sent to a Union convalescent hospital at Fort Barnard near Arlington Heights, Maryland.
   Charles Blumenrother suffered for the rest of his life because of the wounds received at Chancellorsville. Among other ailments, he permanently lost sight in his right eye as the result of the shrapnel wound to his head. After his short convalescence at Fort Barnard, he went on to serve the Union cause, participating in the battle of Gettysburg. Blumenrother and his regiment were transferred to Alabama, September 1864, where they served with honor in the Western Theater for the duration of the war. Before his muster out of service, December 4, 1865, Pvt. Charles Theodore Blumenrother made advancement to Drum Sergeant and acting Drum Major.
   The "Flying Dutchman" article, written May 2, 1864, hit the New York new stands shortly after. It wasn't long before newspapers across New England ran their own versions of the "Cowardly Dutch" at Chancellorsville. The misnomer "Dutch" added insult to injury. The corruption of the words Deutsche and Deutschland by Anglo English speakers had been tolerated by German immigrants ever since the first boat from Germany had landed on these shores.
   The problem, however, was not that of simple misnaming and characterizing but that of nativism and bigotry. Many American born and longtime citizens held feelings of resentment and distrust for new comers, often viewing them as inferior and not worthy of full citizenship. For these individuals, the alleged cowardliness of the German Brigades at Chancellorsville was the "proof of the pudding"needed.
   General Hooker's defeat at Chancellorsville was one of the worst the Union had experienced. While the loss cast doubt upon their abilities as commanders, both Hooker and Howard sidestepped culpability, allowing the Germans to become the scapegoats. Hooker was soon replaced as commander of Lincoln's eastern army and Chancellorsville did contribute to his loss of command. Howard managed to lay low, allowing the firestorm to pass over him.
   General Carl Schurz wrote a detailed report on what occurred in the Wilderness near Chancellorsville. Neither Howard nor Hooker would assist in it being added to the records. Later in the century, Schurz' report was finally placed in the Official Records of the Civil War. Howard never admitted he ignored reports of enemy movement from Schurz and his scouts and never did he officially come to the defense of Schurz and his Germans.
   In contemplation of the battle, it must be said that the first U.S. regiments to stampede at the sight of Stonewall Jackson's troops were not the German Brigades but regiments who's ranks were mainly non-German. Of the more than 4000 Union solders who stood at Dowdall's Tavern, the vast majority were German. The stand stopped the total destruction of Hooker's army, preventing perhaps thousands of men killed, wounded or captured.
   General Schurz and the German Americans of his division, spent decades correcting the record and restoring their honor. After the war, Carl Schurz was elected to the United States Senate and later served as Secretary of the Interior. Some in his division, took the lead in business and industry, while others worked a variety of occupations, pursuing the American Dream. Charles T. Blumenrother, The Drummer of Chancellorsville, moved west to Bandon, Oregon. He joined the newly formed 2nd Regiment, Oregon National Guard, advancing to the rank of Lieutenant Colonel. He became a leader in the community and the founder of Bandon GAR Post 56, of which he was the official drummer.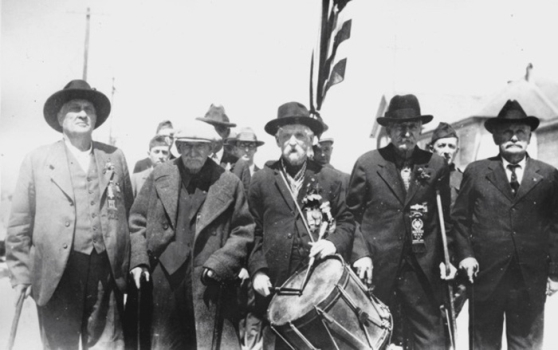 GAR Veterans, Bandon, Oregon, Ca. 1925
From Left to Right, Clayton B. Zeek, Charles A. Rodgers
Charles T. Blumenrother, John W. Felter, James A. Langlois
Photo Courtesy of Bandon Museum
© 2012 Rick Cook
* * * * * * * * * * * * * * *
Cpl. Clayton B. Zeek
   The flag gracefully flew at half mast as a gentle spring wind blew over the GAR Hall in Bandon Oregon. "Daddy" Clayton B. Zeek had passed away in the early morning hours of May 19, 1931.
   At the age of thirteen years and nine months, Clayton Zeek joined the 13th Indiana Volunteer Infantry, Feb. 14, 1864. He enlisted near his home in Wayne County. The War of Rebellion was in its final hellish and bloody eighteen months. The newly reorganized 13th Indiana saw action at Fort Darling, Petersburg and Cold Harbor among others but Clayton Zeek's moment of glory came at Fort Fisher, North Carolina.
   Fort Fisher, also know as the "Gibraltar of the Confederacy", was a formidable stronghold outside Wilmington. Being the last Confederate port on the Atlantic, Wilmington and Fort Fisher had to be taken. In late December 1863, Union Forces under the command of Maj. General Benjamin Butler, made a disastrous and failing attack against the fortress. Ulysses S. Grant replaced Butler with Maj. General Alfred Terry. Choosing a direct infantry assault, being the most likely to succeed, Terry began the onslaught, Jan. 15, 1865. Under protection of cannon fire from Admiral David Porter's gunboats, the 13th Indiana Regiment moved in to assist the Union advance that had stalled just inside the fort's riverside gate. At full charge, the 13th came under heavy fire from Confederate marksmen. Regimental commander Lt. Col. Louis Bell was fatally hit as was the flag bearer. Pvt. Clayton Zeek picked up the fallen flag. Without concern for himself, in spite of a constant hail of shot and minnie ball, the brave and undaunted Private carried the colors to the front.
   The young hero was cited for bravery and promoted to corporal and acting color bearer. Cpl. Zeek was offered an officer's commission June 1, 1865 but turned it down. Choosing not to make a career of the Army, he mustered out of service later that month.
   Clayton Zeek moved to Bandon Oregon in 1902 after roaming the southwest after the war. There he joined GAR Post 56 and became an active member and leader. As adjutant of the GAR, he arranged Memorial day programs, receiving full support from comrades and auxiliary organizations. An interesting fact, Clayton Zeek was also the son of a veteran. His father, Garland Zeek, was a member of the 57th Indiana Volunteer Infantry. Several uncles, brothers and cousins from the Zeek family served in various Indiana regiments.
   Clayton was a state commander and an organizer of the Sons of Veterans, establishing camps in Bandon, Mansfield, and Coos Bay. In an address at the 36th national convention of the WRC in Portland Oregon, "Daddy" Zeek said "I have a 100 sons in the county of Coos and a tent of Daughters of Veterans."
   During World War I, Clayton served with the local home guard. He was elected honorary flag bearer, a fitting and proud position. He seldom missed a drill or a review of any kind.
   The funeral for the old soldier and patriot was well attended on May 22, 1931. Members of all three of his Sons of Veterans camps came to pay respect and honor their leader. The local Bandon boy scout troop, which he also organized, was there as well. At the forefront of the official GAR ceremony were the last two living members of the local Grand Army, Col. C. T. Blumenrother and James Langlois.
   As a citizen of Bandon, Clayton B. Zeek upheld the traditions of American history and saw to it all national holidays were properly observed. In his heart, he always carried the American flag forward till his dying day.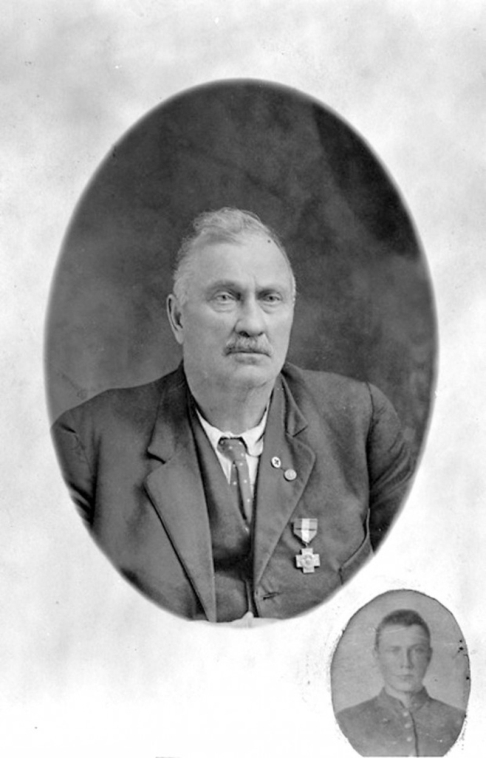 Clayton B. Zeek
Courtesy of the Bandon Museum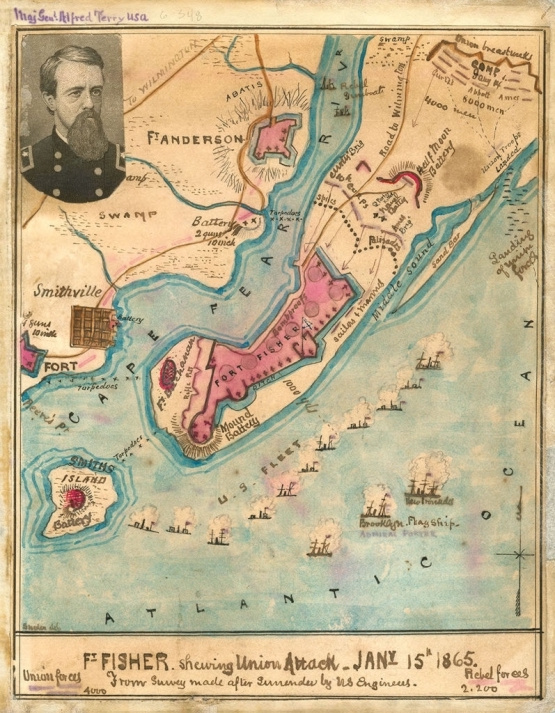 Fort Fisher
© 2012 Rick Cook
* * * * * * * * * * * * * * *
Pvt. Godfrey Hammerberg
   A few months ago, I was vising an antique and collectibles shop in Coquille, Oregon. The owner, knowing I was interested in the Civil War, handed me a letter written in1892 by a Godfrey Hammerberg. She had bought an old dresser and this letter was among some papers that had been left in a drawer. In his correspondence, Mr. Hammerberg asks a long time friend to write an affidavit to the U.S. Pension Office, stating his knowledge of Hammerberg's poor health as a result of wounds received while in the Union Army and as a prisoner of war. I was immediately interested and offered to do a little research.
  Godfrey Hammerberg was Swedish born in 1845. He, along with his parents and siblings, immigrated to the United States in 1852, settling in Minnesota. On August 22, 1862, Hammerberg enlisted in Co. H, 9th Minnesota Volunteer Infantry. Initially, Co. H was stationed on the frontier in the western part of the state. In the fall of '63, Co. H rejoined its regiment. The 9th was sent to St. Louis, Missouri and assigned various guard duties including the railroad line from Kansas to St. Louis. Camp boredom was finally broken the spring of '64 when the regiment was transferred to Tennessee and placed under General Samuel D. Sturgis's command.
   In June, General Sturgis's forces moved toward Guntown Mississippi. Confederate Brigadier General Nathan Bedford Forrest, anxious to cut off the Union advance, rushed toward Brice's Cross Roads. There, on June 10th, the Confederates dove head first into the Yankee advance guard. The boys in blue put up a good fight but the determined Forrest prevailed. After a full day of bloody carnage, Union troops were forced to retreat that evening. Deployed as rear guard, the 9th Minnesota, with a "Colored" Regiment to its right, made a gallant stand, keeping Forrest from consuming Sturgis' entire army. With dozens killed or seriously wounded, Pvt. Hammerberg and more than 250 men of the 9th were captured by the Rebels.
   In spite of Hammerberg's serious wounds to his head and neck, Forrest's newest prisoners were sent to the infamous prison at Andersonville Georgia. When they arrived, the population was more than 20,000, held in a sixteen and a half acre compound built for 10,000. Ten more acres were added but by August the population reached 33,000. With Sherman marching through Georgia and his capture of Atlanta, Pvt. Hammerberg and others were transferred to the Cahaba Prison near Selma, Alabama later in the year.
   The facility at Cahaba, originally an unfinished cotton warehouse, was converted and designed to hold 660. Before long, more than 3000 men were crammed within the building's red brick walls. Conditions were actually better at Cahaba than Andersonville even though each man had little more than seventeen square feet of space. Fresh water along with better nutrition and medical supplies allowed a higher survival rate.
   On January 20, 1865, prisoners failed in a mutiny and escape attempt. Pvt. Hammerberg was arrested but charges were dropped. The alleged ring leader, Capt. Hiram S. Hanchett, believing he was to be part of a prisoner exchange, marched from Cahaba under guard, never to be seen again. Hammerberg endured the hardships of a P.O.W. till April 19, 1865, when he was exchanged and released at Camp Fisk near Vicksburg, Mississippi. It is not known if Pvt. Hammerberg was on board the ill-fated steamboat Sultana. Union officials failed to take a muster roll of military passengers and the disaster was not mentioned in Hammerberg's letter. Ex-prisoners from Cahaba were the Sultana's most numerous victims.
   On August 24, 1865, Private Hammerberg mustered out at Fort Snelling, Minnesota. He married and had children. For several decades, he resided in White City, Kansas, earning a living as a carpenter. In 1920, he, his wife and a daughter were living in San Francisco, California. Godfrey Hammerberg died Oct. 22, 1922 and is buried in the San Francisco National Cemetery at the Presidio.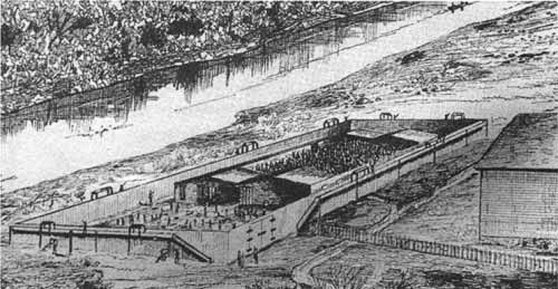 Cahaba Prison Alabama
Note: Nearly one third of the 250 captured members of Co. H 9th Minnesota died at Andersonville or Cahaba
13000 (Federal Records) died at Andersonville. 29% of population
Between 147 ( Federal Records) to possibly 225 (independent estimates) union prisoners died at Cahaba 4%-7% of population. This is actually a good record considering the circumstances and comparisons to other P.O.W. prisons, North or South.
The overcrowded steamboat Sultana was transporting Union Troops north on the Mississippi river when her boilers exploded north of Memphis. It is estimated, more than 1500 ex-prisoners of war died on the Sultana. The Sultana tragedy is the largest maritime disaster in American history.
© 2012 Rick Cook
* * * * * * * * * * * * * * *
George Gibbs Joins the Union Army
   George Ames Gibbs could trace his heritage back to Blandford, a small hamlet perched on the edge of the Berkshire Mountains in Western Massachusetts. Blandford, originally named Glasgow, was an early Ulster Scottish settlement. The Blandford Scouts served in the French and Indian Wars and later the American Revolution.
   In the early 19th century, the Gibbs family took up farming in Ohio. They always and reliably served their nation in times of need. After the Confederate attack on Fort Sumter, Lincoln called on Ohio for volunteers. The Gibbs men rose to the occasion. George's oldest brother joined the Ohio National Guard. Two other brothers enlisted in the 49th Ohio Volunteer Infantry. In spite of his age of only 13 years, George was determined not to be left out of the fight. He ran away from home in hopes of finding a regiment that would take him. After several attempts at enlistment, George was finally accepted into the 57th OVI. Looking older for his age, he told them he was 17.
   George Gibbs was mustered into Capt. Samuel R. Mott's Company C, November 8, 1861. In February 1862, the 57th was ordered to Paducah, Kentucky where the regiment was assigned to General Sherman's Division. Sherman, under Grant's command, moved his division toward Pittsburg Landing arriving there in early April. Sherman's men bivouacked in the open near the Shiloh Church.
   Grant didn't believe a Confederate attack imminent but prepared for one just the same. Sherman was certain the enemy wasn't anywhere in the vicinity. In the early morning of June 6th, the howl of General Hardee's charging Confederates was a complete surprise to Capt. Mott's Company. Gibbs and his comrades were determined to hold the ground around the old log church. Suddenly a minnie ball tore its way through George's left forearm, multi fracturing the bone. The camp doctor was shocked to find the boy had recently turned 14. He was sent back to a hospital in Columbus, Ohio, where he was discharged the 18th day of June 1862.
   George convalesced at home in Wyandotte County, Ohio. His arm healed but he never regained full use of it again. Soon George was on the hunt for another regiment. Even though he was able to convince enlistment officers he was 17 (actually he was 15), they rejected him because of his partial disability. Eventually, George heard that Hoffman's Battalion would take men with injuries. It wasn't the duty he had hope for, the Battalion guarded POWs at Johnson's Island in Sandusky Bay, Ohio. George Gibbs mustered into Co. C, Hoffman's Battalion, March 13, 1863. Six new companies were added to Hoffman's original four and designated the 128th OVI, January 1864.
   Most guards at Johnson's Island had never seen combat. This created considerable resentment among the camps Confederate prisoners. His previous wound received at the Shiloh church afforded George some favor with those he guarded. With exception of a small detachment sent against Morgan's Raiders in July 63, the 128th never saw combat.
   George Gibbs was mustered out of service at Camp Chase, Ohio, July 13, 1865. His true age was now 17. He returned home and helped out with the family farm till the mid 1870's when he moved to the little community of Eckford, Calhoun County, Michigan. There he opened a barber shop that also doubled as the best cigar store in the region. His son took over the business in the early 1900's, moving it to Indian Territory, Oklahoma.
   George became a member of the Colgrove GAR Post 166, in Marshall, Michigan. He traveled to many GAR reunions and events in both Michigan and Ohio. He never passed up the opportunity to roll up his sleeve and show off his battle scar, boasting the age he was when he received it. After a brief illness, George Ames Gibbs passed away in 1933. In 2005, the Colegrove-Woodruff SUVCW Camp 22 of Marshall Michigan installed a GAR star on his grave in West Eckford Cemetery.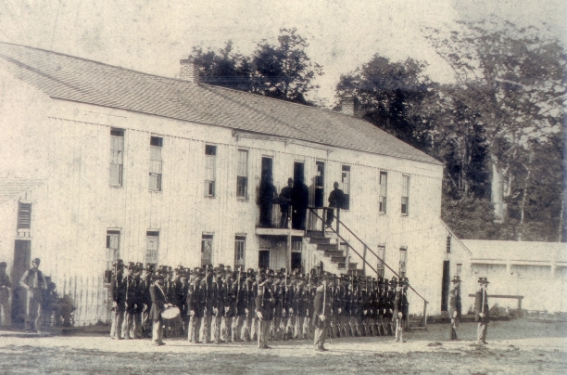 Co. C, 128th OVI
© 2012 Rick Cook
Note: George Gibbs' brother, 2nd Lt. William F. Gibbs, led Co. I, 49th OVI in an ill perceived "suicidal" attack against a heavily fortified and entrenched Confederate position at Picketts Mill, Georgia, May 27, 1864.
Lt. Gibbs was one of four commissioned officers killed that day. Over half of the 49th Regiment was killed, wounded or captured in the fateful assault.
Service of other Gibbs Brothers:
Quartermaster Sgt. Addison E. Gibbs, 144th OVI, GAR Post 173 Crawford, Ohio
Pvt. James A. Gibbs Co. A, 49th OVI , wounded at the Battle of Nashville, Dec. 16, 1864, Transfered to the Veterans Reserve Corps.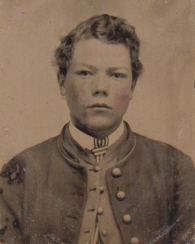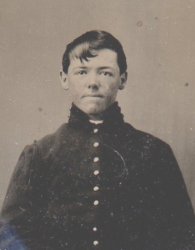 George A. Gibbs ..................... James A. Gibbs
       I feel entirely incompetent to pronounce eulogy upon the heroic dead. The memory of Lieutenants Simons, Ramsey, Gibbs, Wallace, and the many brave men who with them have so nobly died, should ever be cherished in the hearts of our people and inspire there, as in the minds of their remaining comrades, the determination to defend and forever establish the great cause in defense of which their blood was shed—the hope of humanity, our free institutions—a fitting monument to the glorious sacrifice.
Very respectfully, your obedient servant,
SAML. F. GRAY,
Lieut. Col., Comdg. Forty-ninth Ohio Vet. Vols.
Lieut. W. MCGRATH, A. A. A. G., First Brig., Third Div., 4th Army Corps.
Note: The Johnson Island prison was for Confederate Officers, designed to hold no more than 1,000 inmates. After prisoner exchanges ceased in October 1863, the prison's population swelled, reaching a peak of 3,256 in January 1865.
The prison's commanders established a cemetery on the northeast side of the island. More than 200 inmates died over the prison's 40-month period of operation. Deaths were largely attributed to disease and illness. While conditions on Johnson's Island were not as harsh as in prisons for enlisted soldiers, lack of appropriate sanitation, overcrowding, and inadequate shelter and food were common issues, especially during the final years of the war.
In 1904, the United Daughters of the Confederacy purchased the cemetery, donating it to the U.S. government in 1931. They erected two monuments at the island cemetery in 1925. In 2003, the United Daughters of the Confederacy erected a set of granite markers dedicated to Confederate prisoners of war.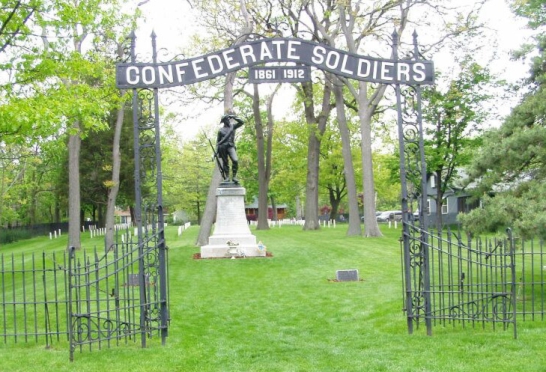 Confederate Cemetery on Johnson's Island
With UDC Monument
* * * * * * * * * * * * * * * *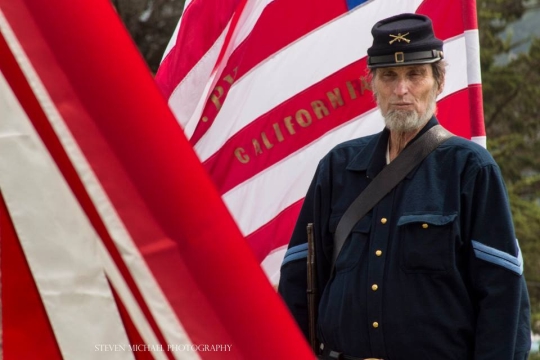 Corp. Rick Cook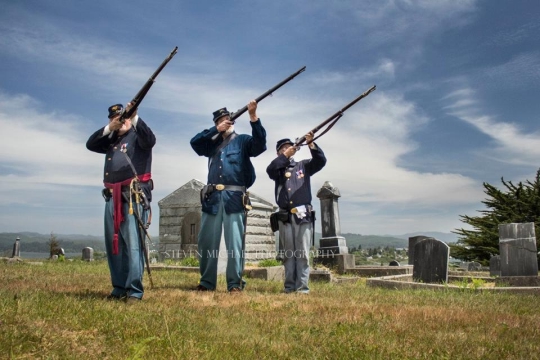 SVR Color Guard, Marshfield Cemetery, Coos Bay, Oregon
Lt. Mark Stevens, Corp. Rick Cook, Corp. Tim O'Neal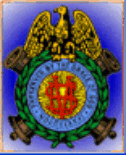 Col. Edward D. Baker Camp 6