Baxter's 4th Arkansas Mounted Infantry, USA
Batesville, Arkansas

Skirmish at Lunenburg, January 20, 1864
On January 20, 1864, a detail of 44 men of the Fourth Arkansas Mounted Infantry Volunteers (U.S.) under Capt. T. A. Baxter, the brother of a future Arkansas governor, attacked Col. T. R. Freeman's Confederates, driving them from their camp at Lunenburg. Four Confederates were seriously wounded and two were captured, along with horses and equipment. The Fourth Arkansas lost one man killed in the skirmish. The combat at Lunenburg illustrates the war's true nature: Most of the men in both forces were residents of Izard County.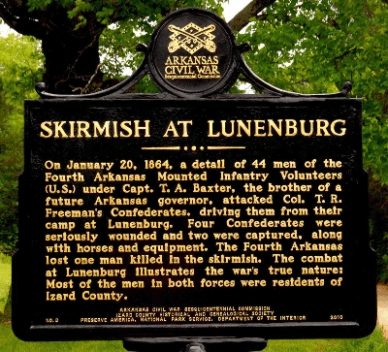 Official Records of the War of Rebellion
Chapter XLVI Part II
BATESVILLE, ARK. January 21, 1864
Capt. H.C. FILLEBROWN, Assistant Adjutant-General:
SIR: The detail of the Fourth Arkansas Mounted Infantry Volunteers that left the night before last (19th), under my command, returned this a. m. We arrived at Lunenburg about 10 a.m. yesterday morning, where I found Freeman's command, from 75 and upward in strength. I charged the town, driving them before me, seriously wounding 4 of them, and taking 2 prisoners. Not having but 44 men, and not being able to ascertain the real strength of the enemy, I concluded not to attempt to dislodge them from the position they had taken on the hills immediately beyond the town for fear of being overpowered. The men that were wounded, I found that I could not bring along, as they were all too badly hurt, and was compelled to leave them on the road, some 2 or 3 miles from the town. I could not learn their names, but suppose one of them to be an Elijah McMahon, a notorious character. The 2 that I brought in with me are named Sergt. W. D. Collison and Private P. R. Young, members of Captain Cook's company, of Freeman's command. I also brought 7 good horses with McClellan saddles, which I captured from the enemy, together with one Government rifle—Enfield musket. We succeeded in getting 9 recruits, with the promise of as many more in a few days. I could not learn anything definite about the program of the enemy, but do not think they will remain in the neighborhood of Lunenburg unless they are re-enforced. From what I saw of them I would judge them to be pretty well mounted and armed. I stopped last night with my command at Widow Russell's, on Lafferty's Creek, whom I receipted to for 8 bushels of corn. I almost forgot to add that one of my command by the name of Williams was missing from the time of the skirmish. He was seen alive and well a few moments after it was over, but has not been seen or heard of since. He may probably find his way back. In conclusion, I would, in justice to those under my command, say that they were cool and collected, and promise, after a little disciplining, to become good and valiant soldiers.
I am, very respectfully, your obedient servant,
                                        T. A. BAXTER, Captain, Fourth Arkansas Mounted Infy. Vols.                
CHAPTER XLVI Part I
OPERATIONS IN NORTHEASTERN ARKANSAS
Reports of Col. Robert R. Livingston, First Nebraska Cavalry, commanding District of Northeastern Arkansas. HDQRS. DISTRICT OF NORTHEASTERN ARKANSAS, Batesville, Ark., January 26, 1864.
........................................................................................................................................................................................................................................................................................................................
On the 19th, learning that a force of Freeman's command were feeling their way toward me, I immediately sent a small party, under Captain Baxter, Fourth Arkansas Infantry, who charged 200 of the enemy at Lunenburg. 30 miles from here, and drove them, killing and wounding several. I inclose his report,* to which I refer you for particulars. The man reported missing in Captain Baxter's report was killed while gallantly refusing to surrender to superior numbers. He killed his man before being disabled.
                I am, colonel, very respectfully, your obedient servant, R. R. LIVINGSTON
---
Skirmish At Lunenburg
By Rick Cook
   The morning of January 20, 1864 began as usual in the little village of Lunenburg. All was still except the crackling sound and rising smoke from the campfires of Capt. Christopher Columbus Cook's Company, Col. Freeman's Cavalry, C.S.A. The occasional clinking from a coffee pot bail echoed and skipped across Coopers Valley, fading into the wooded hillsides nearby.
    Confederate units freely roamed the country side in Izard County, Arkansas. Col. Robert R. Livingston commander of Union troops in occupied Batesville knew the presence of Freeman's men and much desired this nuisance eliminated. Under Livingston's command, the newly formed 4th Mounted Union Infantry was organized by future Arkansas governor Elisah Baxter. Baxter's scouts were considered some of the best in that part of the state. The four hundred strong regiment was largely made up of ex-Confederates, who either enlisted as volunteers or had been conscripted.
   Mace Williams and his brother Asa, a few months after deserting the 31st Arkansas Confederate Infantry, found themselves in the Union army. Whether it was a choice or as a result of conscription, the two Galvanized Yankees, none the less, were riding with Baxter's 4th.
   Irritated by Freeman's presence, Col. Livingston ordered Capt. Taylor A. Baxter, brother of Elisah, to attack the Rebel camp at Lunenburg. With forty-four men from Co. A, including Asa and most likely Mace Williams, Capt. Baxter initiated his orders the evening of January 19. Riding thirty miles north into Izard County, Baxter and his patrol arrived near Lunenburg around 10:00 a.m. the following morning.
   Finding Capt. Cooks' command of more than seventy-five troopers, Baxter charged their camp. Seriously wounding four and capturing two, the 4th drove the rest into the hills bordering the valley. The Confederates found the ground to their liking and quickly took defensive positions among the trees. It is clear that Capt. Baxter was unsure of the strength and number of his enemy. Choosing discretion as the better part of valor, he ordered a withdrawal, attempting to take all six prisoners with him. Realizing his wounded prisoners were in too critical condition for fast travel, Baxter left them on the road two or three miles from Lunenburg.
   In the confusion of the skirmish, Capt. Baxter unintentionally left Pvt. Asa Williams behind. Baxter in his formal report, dated Jan. 21, 1864, mentions Pvt. Williams as missing in action but seen alive and well after the skirmish. Col. Livingston in his accounting of the skirmish said, "The man reported missing in Captain Baxter's report was killed while gallantly refusing to surrender to superior numbers. He killed his man before being disabled." In 1884, Asa's father, Josiah Williams, applied for a Dependent Father's Pension. He stated in his application, the cause of death as, "gunshot wound in the hands of the enemy."
   According to local lore, Asa was buried in a shallow pit near the skirmish site. Locals at the time thought him a northern man. Members of the Williams family traveled from Van Buren County, Arkansas to Lunenburg, some sixty-eight miles, to retrieve his remains. His final resting place is unknown. Most likely he was buried on his father's farm along Cadron Creek.
   Baxter's 4th Mounted Infantry served the Union till early June 1864. Reasons for the unit being disbanded are not clear. It is believed the 4th suffered from discipline problems. Despite his positive feelings in regards to their scouting abilities, Col. Livingston stated, "They rally around the flag with little enthusiasm." Union Lt. Col. T. G. Black said of Baxter's 4th, "I find Mr. Baxter a worthy, intelligent gentleman, but the squad of recruits a most complete nuisance." After the Lunenburg skirmish, Capt. Taylor A. Baxter, praised his men's actions but said they needed more discipline.
   Thanks to supply problems and constant Rebel harassment, the Union abandoned Batesville. The 4thArkansas Mounted Infantry was mustered out of service at Devall's Bluff on the lower White River, June 6, 1864. Those who had strong Union feelings were offered enlistment in other regiments. The remainder were left in an uncomfortable situation, seen as traitors by some and not quite loyal enough by others.
    Mace Monroe Williams returned to Van Buren County. He protected the home front and looked after his father and their farm for the duration of the war. Mace applied for a Union pension four times. The pensions were not granted. Baxter's 4th was never recognized by the War Department. Mace lived in Van Buren and Cleburne Counties Arkansas most the rest his life. He died 1925 in Cleburne County. His grave site is unknown.
   On May 5, 2012, the Sons of Confederate Veterans, Pvt. Job S. Neil camp #286 presented the re enactment of the Lunenburg Skirmish. The tranquil Cooper Valley's peace was broken by artillery blasts from Barrett and Hubbard's Confederate batteries, as the performance began. Co. K, 1st Arkansas Mounted Rifles, commanded by Capt. J. R. Wyatt, acted the roll of Co. F, Col. Freeman's Cavalry. Capt. Louis Riggs led the 7th Arkansas Infantry, acting the roll of Baxter's 4th Mounted Infantry. Spectators lined the field, taking photos and cheering their Heros.
   After the re enactment, a memorial for Pvt. William Hinkle of Freeman's Cavalry was held at the Lunenburg Cemetery, a short walk from the skirmish site. Ceremonies were led by commander Danny Honnoll, Army of the Trans-Mississippi Sons of Confederate Veterans. Pvt. Hinkle, a Lunenburg native, was one of the four Confederates wounded, captured and released, who later died of his wounds. A nine-gun salute was given and taps played, reverently ending the day's event.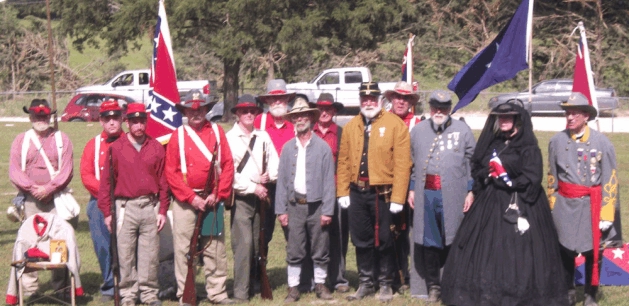 Sons of Confederate Veterans, Pvt. Job S. Neil, Camp 286
Rick Cook, a member of Oregon SUVCW Baker Camp #6, attended the May 5th Lunenburg Skirmish re enactment. He is the great great grandson of Mace Monroe Williams and the great great grandnephew of Asa Anderson Williams.
William Asa Hinkle, "Southern Cross of Honor"
By Freda Cruse Hardison
   "Why are you here," asked Commander Danny Honnoll, Army of the Trans-Mississippi, SCV (Jonesboro) addressing the 50 or more people who braved the 90 degree heat, sitting on the knoll in Lunenburg Cemetery. It was a good question with varied answers. For most it was ancestors who fought in, perhaps died in the Civil War others living out their lives buried with family at Lunenburg. We were all there to honor a young man, William Asa Hinkle, son of Jesse Hinkle and Sarah Cole, who gave his young life to the cause of the South in the Civil War. Only 18 years, 4 months and one day old he was wounded at the Skirmish of Lunenburg resulting in his death in the following day.
   When the Civil War broke out Willie as he was known to his friends and family joined Co F of Col. Thomas Roe Freeman's Missouri Cavalry (CSA). Few CSA records exist of Freeman's service or that of his men. In fact most of what we know is through oral histories and the records of the Union files. They documented their on going frustration over their continuously failed efforts to locate and destroy Freeman's mission to protect the munitions efforts of the White River Valley, as well as their order to kill all resistors and burn anything in their path.
   Freeman's cavalry men all had some degree of wealth as they were required to have their own horses. Although enlisted men, they operated more like guerillas and irregulars, employing the Native American style of fighting maintaining no base camp operating from local homes and farms of the CSA loyalists and often the families of the men serving. On more than one occasion Freeman and his men camped at Round Bottom, St. James, Calico Rock, Mt. Olive and Sylamore as they patrolled and protected the area. Freeman operated in and out of the White River Valley leaving key men "in charge" of specific areas, "O'Neal to Dry Creek belonged to my daddy (William Chitwood)," my great grand father John Richard Chitwood (1877-1974) told me. "They had been at home the night before the engagement at Rocky Bayou [Lunenburg] that cost Willie his life. He was one of daddy's friends. They rode together to Missouri to enlist, with about 20 more fella's. Willie spent the night at home with his father Jesse Hinkle and his step mother Mary (Coburn). His momma (Sarah Cole) died shortly after he was born. Willie he was wounded bad, shot in the vitals but he hung on and died at home. Not like a lot of the men who were left for the buzzards, some even were scalped or worse had their heads cut off. The Unionists rarely buried our boy's and when they did it was in mass graves. It could mean torture and death to Southerners who buried the bodies but it was the right thing to do. Willie's best buddy was his sister Martha who was just a girl, but her and her friend Eliza (Elizabeth Mims) whose husband was off fighting (CSA), they dressed Willie for burial and then began digging the grave. The Unionists (Baumer and Baxter's troops) chased Freeman going down through Mt. Olive. They killed Isaac Jeffery, just a boy himself, home for a day or two and burned Mt. Olive. They went on to Sylamore. Daddy he rode back around coming in through Knights Cove and got grandpa (James Chitwood). They went over and finished digging the grave his sister had started."
   Official records show that Captain Taylor Baxter was operating under orders to take no prisoners, and if necessary, burn any home or town that offered resistance. They continued from Lunenburg to Mt. Olive where they burned the town and killed Isaac Jeffery. Jeffery family history has that he was found by his mother and a slave woman, Mandy, thrown in a ditch. They buried him. The Union troops then moved to Sylamore burning much of the town before moving up the South Sylamore Creek thus failing to find the munitions efforts located at Gunner Pool on the North Sylamore. Instead according to official Union records, they arrived at the mill of Absalom Rorie. The records don't tell of how they tortured and killed him and his sons Andrew and Hezekiah by tying their arms to horses dismembering them in an unsuccessful effort to gain knowledge as to where the munitions were being made. As we sat watching and listening, cold chills went over me. Nothing spectacular was being said, just words describing this young boy's life and his service, along with the names of other local boys who fought.Most of us here had just witnessed the re-enactment of the Skirmish of Lunenburg. The re-enactor whose role it was to be a wounded young man likely had no connection or understanding of the young man who stood in this place 150 years ago, who gave his life for ideals his family believed in. Another man died that day, a Union soldier by the name of Anderson Williams. He was buried at Lunenburg by the burial detachment of Baxter's troops but was later exhumed by family and removed to a cemetery in Cleburne County. Today, his 4th great nephew, Rich Cook, traveled from Oregon to attend the memorial service and dedication of honor of his ancestor and William A. Hinkle, local boys who gave their lives.
   The Southern Cross is a military honor presented to Confederate military personnel. The original wartime medal, "Confederate Medal of Honor" was intended to honor officers and soldiers for their valor in the armed forces of the CSA during the Civil War. Due to a shortage of medals, many were not awarded nor minted. The names of the soldiers were recorded and preserved with most being designated within the 50 years following the end of the Civil War. For young men like William A. Hinkle, his was presented May 5, 2012 as a result of the fifty one days I spent with my Grandpa John Chitwood when I was 12 years old. While babysitting my nephew Andy for my sister Robbie who was in school at ASU, Jonesboro, I made third party phone calls to all my friends in Mtn View from a pay phone. The $51.00 bill resulted in my paying my parents back by working off a $1.00 for every visit I had with my great grand father John Richard Chitwood (1877-1974), whose father rode with Col. Thomas Freeman. I wrote down what grandpa John told me and gave it to momma. It was in those notes that I found the information regarding Willie Hinkle. Thanks to Roger Harvell, of Izard County who took the ball and ran with it after I told him of what I had found when re-reading what I had written all those years ago. Roger confirmed Willie's service, battle and death at the Skirmish of Lunenburg recommending him for the Southern Cross of Honor.
   The re-enactment of the Battle of Lunenburg offered family, friends and Civil War buffs an opportunity to understand the harsh hand to hand combat. For Willie his death occurred on the banks of the creek where he went swimming with his friends, sisters and brothers, in the beauty of Cooper Valley and unlike so many others, he died and was buried at home. As Memorial Day approaches, we should remember that it's meaning and origin lies with the Civil War, and is for remembering all of the people who have given of themselves in service to our country.
The Real Josey Wales
By Freda Cruse Hardison
Story telling is an ancient art which generally incorporates stretching the truth often the stuff of outright lies but most always the story has an origin in a real event however grandiose the tale. Most of us have seen the 1976 movie "The Outlaw and Josey Wales" made famous by the gritty characterization played by Clint Eastwood. But did you know it was based on a real person? Years before the Civil War, the Ozarks were full of men who single handled fought off the Kansas jayhawkers in what was known as the "Kansas Border Wars". When the war came, these men would become legends in their abilities to maneuver the hills and valleys outwitting the Red Legs, Union soldiers, spies and jayhawkers. The truth of the film character Josey Wales lies here in the Ozarks with just such a man, Bill Wilson, born in 1839 in Phelps Co, MO. Like so many others, he began his 'career' in the Civil War in the shadow of the Kansas Border Wars where the true guerilla and bushwhacker was born.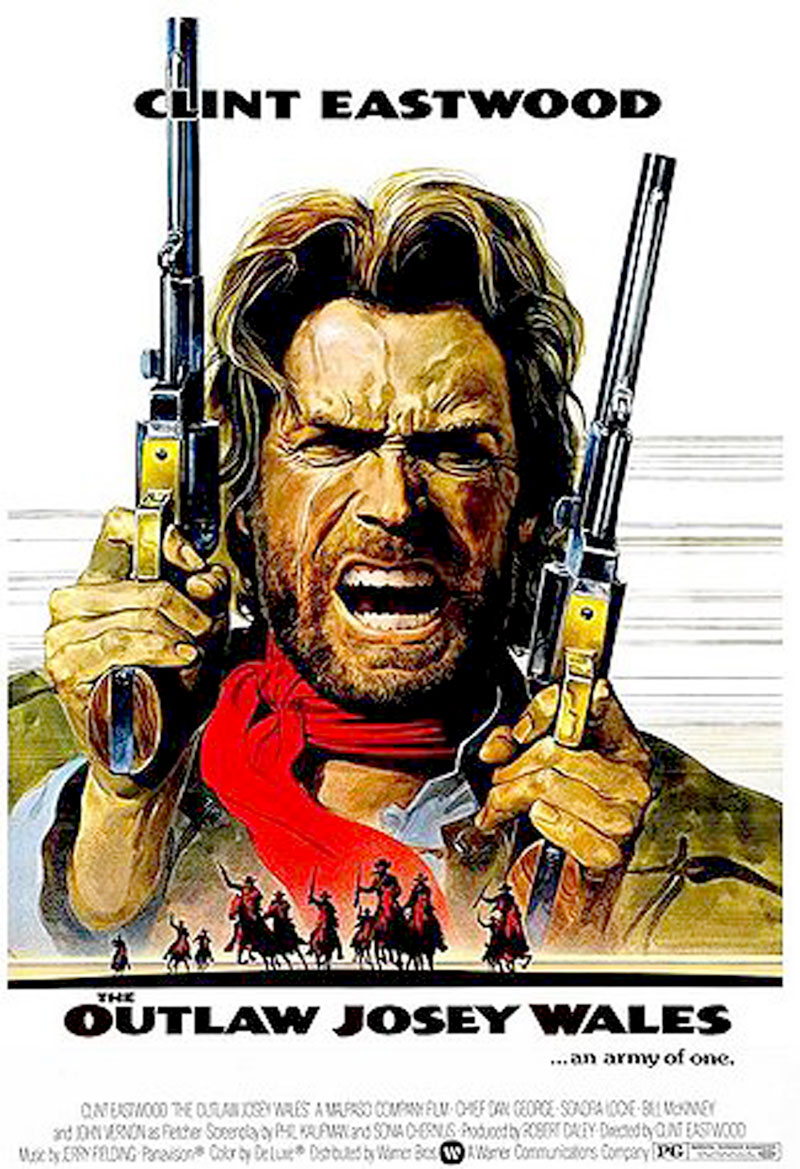 Although his father, Vol (Valentine Wilson) was a prosperous farmer, he freed his slaves and advised his children to remain neutral. Bill was tall, 6'2" they say, 185 lbs with curly hair and bright blue eyes, a striking man with a skill on the fiddle that put him in the center of social life. Typical of the day Bill carried his guns with him. An event that is told over and over, happening to family after family, Jayhawkers and Red Legs ejected the Wilson family from their home, took everything they had and burned the house, barn and buildings. The family moved into a one room cabin and Bill the Bushwhacker was born. Constantly honing his shooting and riding skills, he became a dangerous man. We've all walked, rode horses or four wheelers on the banks of streams finding ourselves stepping into leaves, sinking in mud or loose gravel. Before the decimation of the Ozark forests from over cutting timber, our streams weren't as full of the gravel that we now find standard, and those small areas were much larger areas of quicksand. Prior to the installation of the dam at Norfork, the White River ran shallow often freezing in the winter. Stories go that Bill had a trail that led along the river where he knew of nearby quicksand. He rode in the waters of Piney Creek, crossed the White River, rode around and continued over and over making it look like several riders had taken the path using it as a crossing. He then lured several soldiers to pursue him along the trail, exiting into the brush just at the point that the jayhawkers and Union soldiers would get caught in the quicksand. Chasing him with abandon, the story goes that at least a dozen men and horses died sinking in the quicksand without Bill having fired a shot.
   Bill operated alone for the most part, sometimes with just a few friends. The forest was their grocery store. Bill loved to turkey hunt and news of his skills spread. A group of soldiers and spies, including James Butler Hickok (Wild Bill) used this as a means to try to catch him, calling out turkey calls to lure him out for the hunt. Bill's listening skills quickly told him these were not wild birds. He slipped around out of his camp and got behind the men and began making his own turkey calls. They were taken in and followed "the wild turkey" into a box canyon where in the resulting shootout Bill took the lives of at least 3 of the men and secured all of their horses.
On more than one occasion, Dick Kitchen, Anthony Wright and John "Jim" Jamison rode with Bill. Their goal was of course to wound or kill as many men as possible, but also to relieve the opposition of their horses, which they did over and over, leading to a bounty on their heads. Andrew Jackson "Dick" Kitchen was born in 1839 near Bill in Phelps Co, Missouri. After the war, he moved to Evening Shade where he ran a harness shop. The war didn't end in the Ozarks in 1865 in fact some suggest it still hasn't ended. Then as now, men have their round tables, coffee hour, checkers or smoking – a man who hung around the harness shop got to be friends with Dick and learned who he was. Realizing a bounty continued on him, he killed Dick with his own gun in 1868 in Evening Shade, Arkansas.
John "Jim" Jamison rode not only with Bill Wilson, but with Col. William Clarke Quantrill operating as a guide through the Ozark Mountains of Arkansas and Missouri. It's believed that a group of Quantrill's men were at the Battle of Lunenburg with Col. Thomas Freeman under Jamison, possibly including all or part of this 'gang' of friends. Quantrill and Gen. Jo Shelby were in constant need of horses, delivering the animals to them created a great alliance and lasting friendship between the men. Following the war, Bill Wilson went to Texas with Col. Jo Shelby. His wife received a letter that he had been killed. Although she believed, as did many of her neighbors, that he had simply done this to avoid bounty hunters changing his name to live out his life in Texas. She continued to live with their children in the house that Bill had bought and paid for before leaving for Texas.
           Clint Eastwood made Bill Wilson famous in the 1976 movie, The Outlaw and Josey Wales. The movie version is not far from the truth of his life, with some typical storytelling applied. However, the saloon in the movie would have accurately been that of former Quantrill guerilla and friend of Gen. Shelby, and fellow Ozarkian Jim Crow Chiles in Sherman, Texas. Near the movies end, Jim tells two of the rangers on the great outlaw roundup that Josey's real name is "Mr. Wilson."
           Civil War re-enactor, Josh Harris, early in his re-enacting career was dubbed Josey Wales due to his resemblance and riding style. During the re-enactment at Lunenburg, May 5th, (Josh) Bill Wilson, aka Josey Wales and several of Quantrill's men fought under the Black Flag. While some dispute that a black flag ever existed, legend has it that a young Annie Fickle after being rescued by Quantrill's men wove a 3x5 foot black flag out of wool with the name Quantrell in red. When presented to him, the men attached it to a pole and carried it thereafter.
            Whether Bill Wilson aka Josey Wales was actually at the Battle of Lunenburg is unknown, but it is known that several of Quantrill's men were camped with Freeman at Lunenburg when they were attacked by Capt. Taylor's troops. And, although legends can turn to lies or lies become legends, in this case, the real Josey Wales was Ozarkian Bill Wilson.
Stone County native, Freda Cruse Hardison, writer, photographer and sociologist, researches the "real history" of Stone County and the Ozarks. Her new book, Voices of Our People and Places of our People, can be ordered at $20.00 each (shipping and handling for 1-4 books $5.00) through www.theshadyhollow.com on line or send a payment to Nikki Lee Atwell Foundation P O Box 2133 Mountain View, Arkansas 72560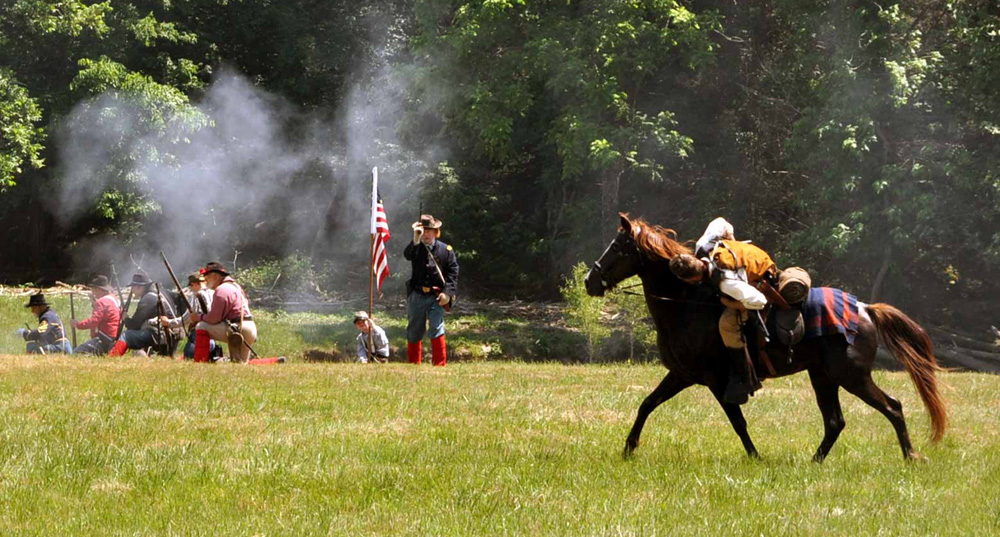 Josh Harris, aka, Josey Wales, fights Red Legs at 2012 Lunenburg Skirmish Re-Enactment
Back to 4th Arkansas Main Page