Baxter's 4th Arkansas Mounted Infantry, USA
Batesville, Arkansas

Elisha Baxter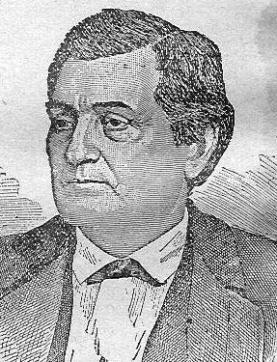 Col. Elisha Baxter, Commander and recruiter of the 4th Arkansas Mounted Infantry, is best remembered as Arkansas's Republican governor during Reconstruction.
Baxter was born on September 1, 1827, in Rutherford County, North Carolina. He married Harriette Patton of Rutherford County, August 16, 1849. Together, they had six children. In 1852, the Baxters moved to Batesville, Arkansas. After arriving in Batesville, Baxter opened a mercantile business along with his brother, Taylor.
   Elisha Baxter served as mayor of Batesville in 1853 and was state representative from Independence County in 1854. In 1855, the Baxter's business failed. Baxter then studied law under Hulbert F. Fairchild, a future Supreme Court Justice. Admitted to the bar in 1856, Baxter paid off all his debts and returned to politics, being elected to the Twelfth General Assembly in 1858.
    According to the tax lists of 1854 and 1855, Elisha Baxter owned three slaves who were valued at $2100.00. His brother Taylor owned one in 1860. In spite of this, the Baxters opposed secession. In May 1862, the Union Army of Gen. Samuel R. Curtice arrived in Batesville and began recruiting Arkansas Union Regiments. The command of one regiment was offered to Baxter. He declined the offer, later saying, "I did not feel that it was my duty to make war upon the people of the South." However, Baxter did help raise four companies. After General Curtice left the Batesville area, the Confederates reasserted control. Baxter fled north to Missouri where he was captured in 1863. He was arrested and taken to Little Rock to be tried for treason. He was thrown in the Pulaski County jail and would languish there for several months.
    As the Union Army continued its approach to Little Rock, Baxter feared execution. On August 25, about seven o'clock in the morning, a supporter slipped a key into Baxter's cell door lock and he made his escape. He cautiously left town taking refuge in a corn field near the Arkansas River. He hid there for two weeks, eating sweet corn and berries, until the Union Army arrived.
   After the fall of Little Rock to the Union, General Steele offered Elisha Baxter a commission to raise a regiment in the Batesville region. Baxter, this time, accepted. In mid November, 63, Baxter left the Rock with Col. Black and the 3rd Missouri Cavalry, heading ultimately to Batesville. He recruited more than 400 men into the 4th Arkansas Mounted Infantry. Baxter resigned his commission to assume a position on the supreme court, giving command of the 4th to his brother Taylor. Later, the newly organized Union Government of Arkansas, under the Governorship of Isaac Murphy, appointed Baxter to fill one of two vacancies on the United States Senate.
   After the war, Governor Powell Clayton appointed Elisha Baxter Judge of the Third Judicial Circuit court. Because of his quiet demeanor and assumed indebtedness to the party, Powell Clayton and the Republicans believed they could control Baxter. They chose Baxter as their candidate for governor and in 1872, he was elected Governor of Arkansas over Joseph Brooks in a controversial election. Brooks had received most votes but the Republicans manipulated the polls and installed Baxter as Governor. This led to the Brooks-Baxter War. Baxter was physically removed from the governor's office by Brooks and state militia loyal to him. Baxter was restored to the governorship a month later.
It wasn't long before Powell and the Republicans realized they didn't have the new Governor in their pocket. Baxter appointed, ex-Confederate Colonel Robert Newton as head of the Arkansas State Militia, (Newton had shown kindness to Baxter during his arrest). He then opposed a Republican supported bailout of the States railroad companies. The Republican reconstruction government had subsidized and encouraged private railroad companies to build economically disastrous lines, not to mention graft and corruption, which led to bankruptcy and loss. Baxter believed a bailout unfair to the taxpayers of Arkansas.
   Governor Elisha Baxter promised a new state constitution and restoration of voting rights to disenfranchised ex-Confederate soldiers. He delivered on both. Baxter's detractors, then and now, see his Gubernatorial actions as the handing of State Government back to the antebellum power brokers, which ultimately brought forth Jim Crow laws and the disenfranchisement of Arkansas' African American citizens.
   Baxter declined to accept the 1874 nomination and was the last Republican Governor to be elected in Arkansas until Winthrop Rockefeller in 1967. After leaving office, Baxter returned to his farm near Batesville, Arkansas. He ran for a position in the Arkansas House of Representatives in 1878 but was unsuccessful. He lived his last days practicing law in Batesville and co-owning a jewelry store with his son. Elisha Baxter died, May 31, 1899, at the age 72.
Back to 4th Arkansas Main Page