Baxter's 4th Arkansas Mounted Infantry, USA
Batesville, Arkansas

Capt. L. M. Harris
Lafayette M. Harris was born June 23, 1827, in Tennessee, arriving in Arkansas sometime before 1852. Harris shows up on the records in Independence Co. Arkansas, when he married Mason Agnes Totty, daughter of Edward O. and Lucy Totty, Jan. 25, 1852. The Tottys were residents of Ruddell township. Layfayette and Mason had a total of four children, Minerva J., bn. 1854, William E., bn. 1857, Joseph L., bn. 1858 and David J., bn. 1872. David lived only a month.
In 1860, Lafayette and Mason with their three children were living in Falling Spring, Ozark County, Missouri, his occupation was doctor.
Interestingly, On May 6, 1862, Independence County, Harris was charged with rebellion against the USA, fined $1000.00 and took the oath of allegiance.
L. M. Harris enlisted in Baxter's 4th Arkansas Mounted Infantry, Jan. 1, 1864, Captain of Co. E. He himself states he was a recruiting officer for the 4th since mid Jan. 1864, however, the records show he recruited before that date. He recruited primarily in Van Buren and Independence Counties.
On April 2, Captain Harris formally requested a leave of absence for 20 days in order to go to Little Rock and find out if he was elected to the Arkansas State Representatives. Apparently he had been elected Representative for the County of Van Buren. Commander of Union forces at Batesville, R. R. Livingston, replied, saying the request was unnecessary since Capt. Harris had never been officially mustered into the US Army.
L. M. Harris answered roll call in the Arkansas State House of Representatives from April 11, to June 1, 1864. The House was then adjourned till Fall. Acting Governor, Isaac Murphy, issued a Special Order, June 1, 64, "Lafayette M. Harris is hereby authorized to recruit a company for the 4th Arkansas Infantry Vols. to serve for the term of three years or during the war." It is unclear if Harris did any recruitment under this order. Representative Harris resumed his position when the State Congress reassembled in the fall of that year.
Harris served as County Judge for Perry County, from 1878 till 1886,. At odds with his political opponents in that county, Judge Harris called on Arkansas' thirteenth Governor, Thomas J. Churchill for help. After the Perry County court house was burnt to the ground in December, 1881, Governor Churchill sent the State Militia to Perryville to help quell the lawlessness.
By 1900, Lafayette and Mason Harris were living in Sebastian County Arkansas. His profession is listed as Physician. Land records for Huntington Township, Sebastian County, shows L. M. Harris as owning land, listing him as a Minister.
Sometime after 1900, the family moved to Caddo Township, Montgomery County. It is here Lafayette M. Harris passed away, August 16, 1909. He is buried in the Black Springs Cemetery. The name on his tombstone reads, Rev. L. M. Harris, MD.
After Lafayette's death, Mason Agnes Harris moved in with her daughter, Minerva Harris Tarvin and her husband, W. Frank Tarvin, Caddo Township, Montgomery county.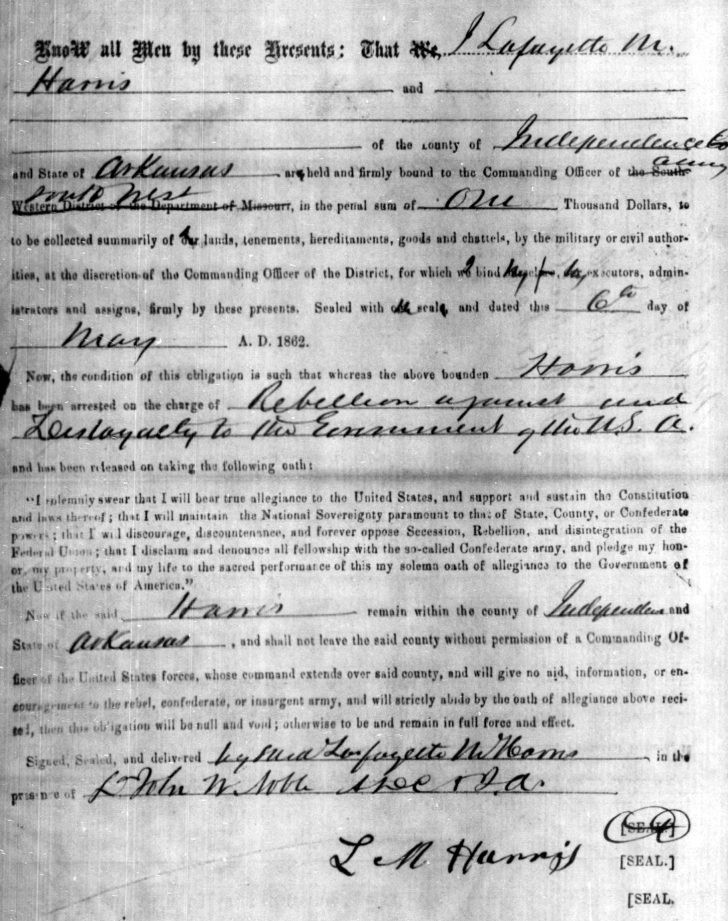 L. M. Harris Oath of Allegiance
May 6, 1862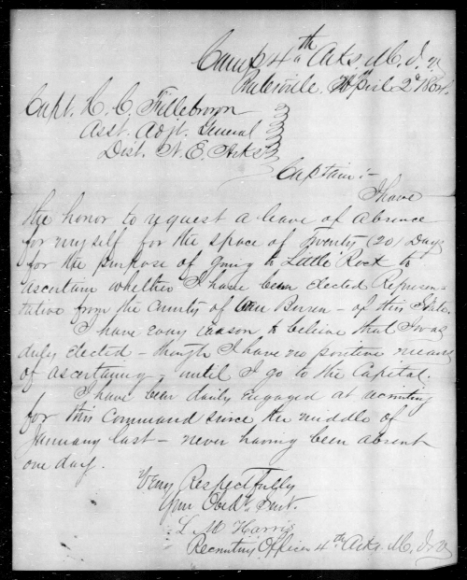 Request for Leave of Absence
Judge L. M. Harris and the Perry Co. Revolt
PERRY COUNTY TROUBLES.
"In June, 1881, Hon. L. M. Harris, the County and Probate Judge of Perry county, called upon me officially, with the statement that a spirit of disorder prevailed in his county, which the local authorities were either powerless or unwilling to control ; that a few nights previous the office of the Fourche Valley Times, a newspaper published in the town of Perryville, and the only one then published in the county, had been secretly fired, by incendiaries, and that about the same time threatening letters had been sent to Capt. J. L. W. Matthews, the editor and publisher of the paper, and to himself ; that these letters gave the parties to whom addressed to understand, that their lives were in danger should they remain in the county; that an effort had been made to ferret out the guilty parties with a view to bringing them to justice by means of the law, but the local magistrates had shown themselves either overawed by, or in sympathy with, the friends of the suspected parties ; that a few days afterwards, while he was holding his court in the court-house in Perryville, a party of about twelve or fifteen heavily armed men had boldly ridden into town, coming from the direction of "upper Fourche," and making their way even to the public square, and that their avowed object was to forcibly control the action of the County Court, then in session, as above stated ; that, learning of their approach, and believing that there would be blood shed, if he attempted' to maintain order, or even should remain within reach of the rioters, he had hastily left the bench, without adjourning his court, fled to Morrillton, in Conway county, and had there taken the train for Little Rock, for the purpose of soliciting the aid of the Executive in maintaining order and enforcing the law in Perry county. He seemed to be earnestly impressed with the belief that no other means than military force could have effect in curbing the disorderly spirit in the county, and, though apparently not a man wanting in physical courage, he was decided in his statement that it would be unsafe for him to return home alone and without some action upon the part of the State authorities evincing a determination to repress disorder and enforce obedience to law. I was averse to taking action, if, by the ordinary means of the law, the public peace could be preserved and the supremacy of the law maintained, and accordingly sent for Major Gen. R. C. Newton, and instructed him to accompany Judge Harris to Perryville, ascertain the exact condition of affairs, and recommend such course as would best preserve the peace of Perry county, and protect her lawfully constituted authorities in the due performance of their duties, and thus insure the enforcement of law and order. General Newton repaired immediately to Perryville, as directed, made a thorough, fair and impartial investigation of the condition of affairs in the county, and reported to me in person. He ascertained that there was a most unfortunate state of feeling existing there ; that in some degree this was due to what seemed a mistaken idea upon Judge Harris' part, of the extent of his powers as County and Probate Judge, and his manner of their exercise ; that this had aroused a violent feeling of resentment and indignation against him in many quarters, while at the same time a large portion of the people were in sympathy with him in the matter ; that thus the affair had grown from bad to worse, until what was alleged to be a too free use, and in some instances, an alleged abuse, of the power of punishing for contempt, by Judge Harris, had, in the opinion of many, taken the appearance of a disposition on his part to oppress, under the forms of law, certain individuals in the county; that whether true or not, this belief had taken hold of the minds of many good men in the county, and to such an extent had the irritation of feeling on the subject found its way, that many otherwise prudent and law-abiding citizens were rapidly arguing them selves into considering it justifiable, on the part of some of the parties themselves, and their friends, to forcibly resist this alleged arbitrary usurpation of authority; that it was believed that Capt. J. L. W. Matthews, the editor and publisher of the newspaper above mentioned, was the secret prompter of Judge Harris in all these things, and, so bitter had become the feeling, it was asserted that Matthews had conceived the wicked purpose of so bringing it about that certain parties in the county should be by Judge Harris, upon a charge of contempt of court, incarcerated in the county jail, and be there, by the procurement of Matthews, murdered. General Newton found that the resentment manifested itself most strongly against Matthews, but included Harris as the alleged pliant tool of Matthews, He likewise ascertained that in this condition of affairs, which was rapidly extending itself over the county, and forcing nearly the whole population into taking sides with the one faction or the other, either actively or in sympathy, it was not to be expected that the local authorities could, however faithfully they might try, cause such an investigation of charges brought against citizens in connection with these unhappy differences, as could be had by a tribunal freed from all local influences and personal attachments or animosities."
Governor Thomas J. Churchill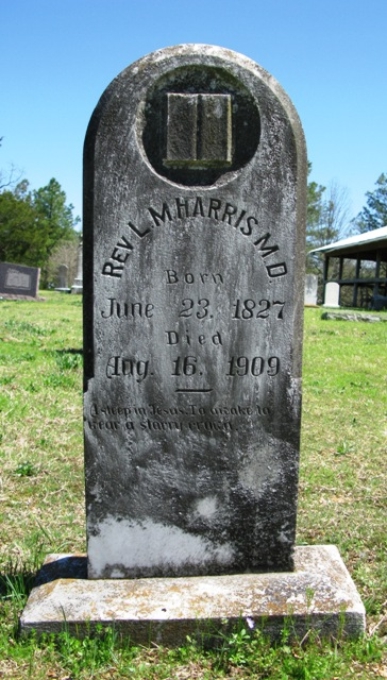 Photo by Robert Galloway
Find A Grave Memorial# 27223414
Back to Co. E Roster
Back to 4th Arkansas Main Page